Community colleges bring skilled training apprenticeships and support to female students
BY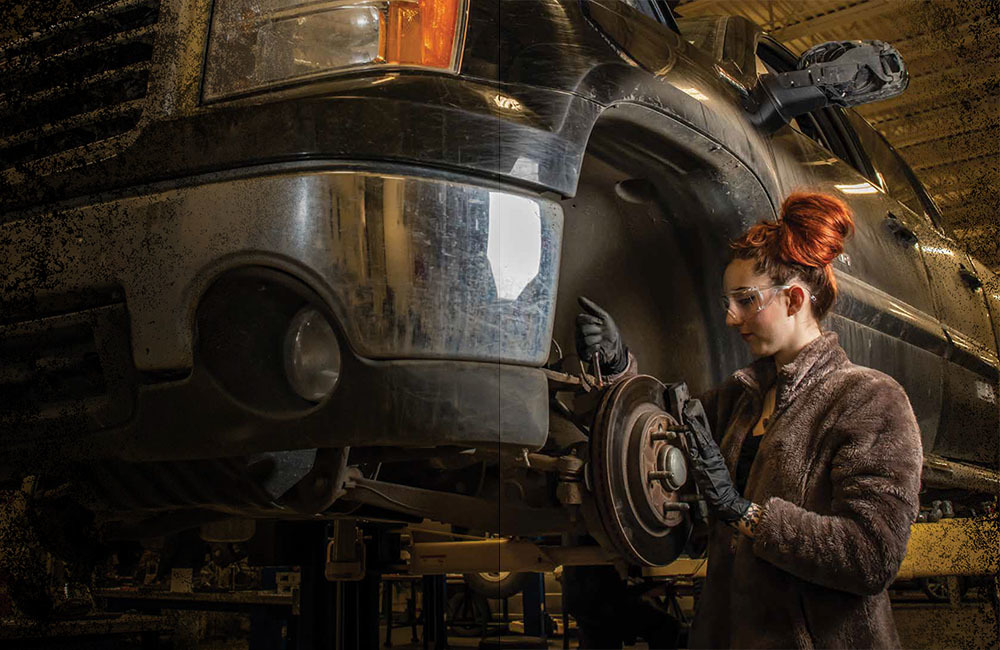 GROWING UP IN IOWA, Lauren Wieser had a hobbyist's interest in all things mechanical, whether dismantling her bicycle for fun or tinkering underneath the hood of the family truck.
"It was mostly about how the engine worked," says Wieser, 27. "I knew the engine powered the wheels, but I liked the fine mechanics of it, too."
Wieser has taken her childhood fascination into the working world, courtesy of a diesel truck technology program hosted by Kirkwood Community College in Cedar Rapids. Gleaning the intricacies of diesel-based maintenance translated to an apprenticeship with a regional quarrying operation, where she repairs the dump truck engines crucial to the company's bottom line.
"I've replaced wheel bearings, and I know how to wire taillights," Wieser says. "I've done backup alarms and head gasket seals. There's lots of work I've done. I love every second of it."
Wieser's story aside, apprenticing in a skilled trade is an opportunity that has not been fully accessed by women. Per 2019 figures from the Bureau of Labor Statistics, women make up only about 12% of the nation's apprenticeships, despite comprising half the U.S. workforce. Additionally, female apprentices are concentrated mostly in social service occupations, as compared to male peers who gravitate more toward construction and other skilled labor.
The Kirkwood program that put Wieser to work is one example of how community colleges are connecting women to male-dominated apprenticeships. However, two-year institutions are still challenged to bridge post-pandemic labor force gaps while overcoming dug-in attitudes about a woman's place in the working world.
The Expanding Community College Apprenticeships (ECCA) initiative is one facet of this ongoing effort. Led by the American Association of Community Colleges, with funding from the U.S. Department of Labor, the program aims to increase apprentice programs and services among member institutions. Over the next three years, the project will infuse 16,000 new apprentices into the U.S. workforce.
Kirkwood is among the ECCA member schools working to involve more women in a proven and lucrative training model, particularly in skilled trades which encompass the vast majority of the country's apprenticeship programs.
Women already comprise a high percentage of the healthcare workforce, a pipeline supported by Kirkwood's nursing and pharmacy technician programming. Skilled trade apprenticeships are also on the menu, with diesel tech joining construction, HVAC installation, truck driving and more.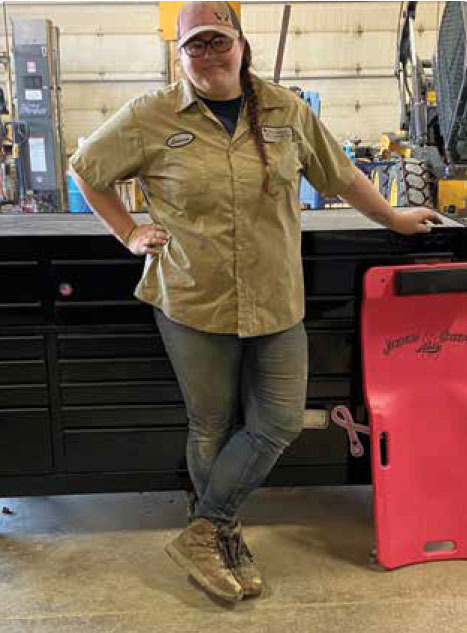 Students who complete DOL-approved apprenticeship programs can automatically articulate 46 credits toward completion of a skilled trades associate of applied science degree at Kirkwood. As classes are available during the day, evening and online, participants are empowered to take courses while finishing their paid apprenticeship training.
"With the worker shortage, we're hearing from employers about how we need to think outside the box and find other ways to recruit and train qualified folks," says Amy Lasack, senior director of corporate training at Kirkwood. "Apprenticeships were one solution that came out of those conversations. Employers really seemed to want to try it."
Generally, Kirkwood apprentices are pursuing a second career, or were hired on as an apprentice while in the middle of a credential program. Kirkwood's construction apprenticeship, for example, draws twenty-something job seekers as well as 40-year-old careerists.
"The hope is these students are as skilled as someone our employers were looking to hire a few years ago when the workforce wasn't as strapped," Lasack says. "Before the pandemic, employers wanted someone with a two-year degree. They've made some concessions now because they're struggling to find talent."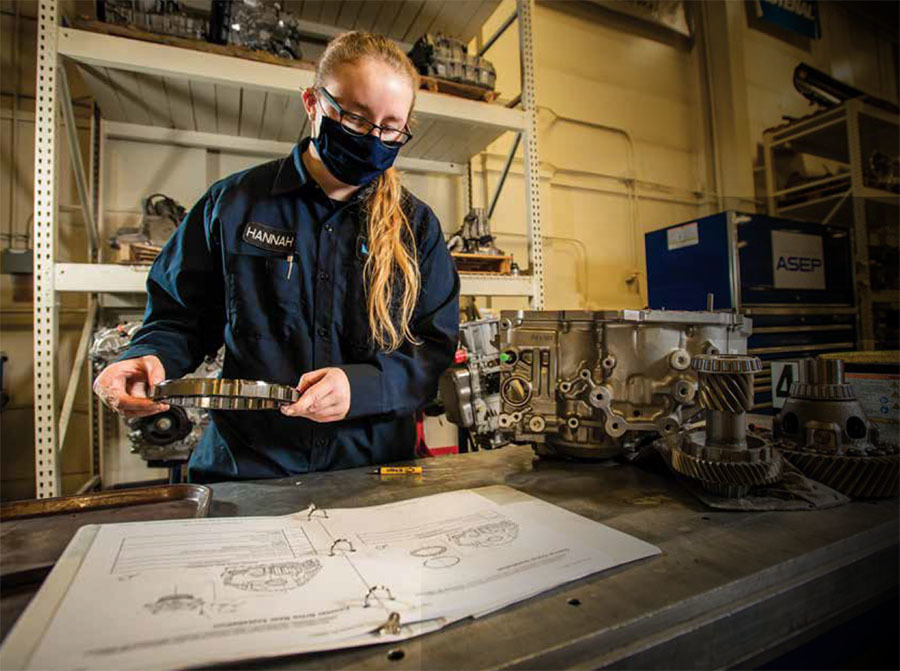 Partner companies want women within their walls, a request that Kirkwood is striving to meet, though not without some difficulty. The college has three women currently enrolled in skilled trade areas—Wieser in diesel tech and two others in construction—a number that program administrators would love to expand further.
"We're hearing fantastic things from our companies about how detail-oriented the women they hire are," says Lasack. "The challenge is creating awareness about the opportunities out there. Women just aren't exposed to these apprenticeships, and don't know the skills they need to succeed in them."
BUILDING SUCCESS TO THE SKY
Issues around skilled trade education are largely structural or even societal, meaning girls deciding their direction in life have no idea what such well-paying industries entail. Kirkwood launched a department to meet this need, providing job shadowing opportunities to female high school students.
Sector boards in industries such as manufacturing and transportation create job awareness events, along with a trades-centric website for K-12 teachers to use in the classroom. Kirkwood also sponsors women-friendly field trips to job sites—in conjunction with the local IowaWORKS office—one of which resulted in at least one visitor getting hired on as an apprentice.
Mentorships are a way of retaining students no matter their background, though all mentors go through personality training to understand the obstacles women encounter in industries historically more accepting of men.
"For a lot of women entering the skilled trades, the environment might be more abrasive than they're used to," Lasack says.
Wieser has a family history at Kirkwood, courtesy of her father, who earned a diesel tech apprenticeship through the skilled trades program. Her own education included truck electronics, engine combustion and basic electricity, which Wieser now harnesses in her day-to-day work.
Although most of her colleagues are supportive, Wieser has dealt with sexism and even abusive behavior on site.
"There's one man who called me a woman as an insult, and anytime he got the chance, he'd boss me around despite not being involved with my training," Wieser says. "There's another guy who's made it clear that women should be at home."
Wieser says the second man pushed her out of his way, a situation in which a foreman had to intervene. As the only female technician in the shop area, Wieser is grateful both for her "awesome mentor" and a cadre of welcoming fellow crew members. She expects to stay on at her current company for at least two years, with hopes of a longer tenure upon the apprenticeship's completion.
"If I had advice for other women wanting to get into this work, I'd say don't let everything get to you," says Wieser. "You've got to have thick skin. Men will try to boss you around, but you learn to stand up for yourself."
At the University of Alaska Anchorage (UAA) Community and Technical College, apprenticeship programs are a blend of full-time employment and related technical instruction. Administrators bill the effort as an "earn-while-you-learn" alternative to a traditional university education in three main areas—diesel technology, auto mechanics and research. The research apprenticeship has learners studying the local salmon population, or measuring damage done to trees by the native spruce bark beetle.
Research has two women involved, twin sisters who represent the only female apprentices throughout the system. That's not to say UAA isn't trying to attract the population—the university's technical college is now reaching out to female high school and middle school students.
"We're also seeking out female mentorships that could lead to more women apprentices in these fields," says Raymond Weber, interim dean for the UAA Community and Technical College. "The one issue we've faced is we haven't marketed to women, and that was on us. That's been changing for the last two or three years."
Though more women are taking general auto, diesel and welding classes, that has not yet translated to apprenticeships. Weber says getting young women indoctrinated into trades stems not only from general lack of knowledge, but biases from family members as well.
"You have fathers and brothers saying, 'I don't want my daughter or sister in a trade surrounded by men 24/7,'" Apprenticeship Coordinator Bill Blanas says. "The sentiment is there and it's something you have to fight at a grassroots level."
Blanas points to the importance of highlighting the success of women in skilled trades, alongside myth-busting around certain industries being too dirty and dangerous for a woman's so-called delicate sensibilities.
"This is a career path that's great for people who can't commit to a regular college degree," says Blanas. "This is not dirty work, and we need to get great success stories out there. When we get those, we should build them to the sky."
Inherent sexism within the trades is perhaps a higher hurdle to jump, adds Blanas. Formerly in the construction industry, Blanas recalls being on site and asking for help to haul some heavy equipment. A woman making a similar request would be belittled and, more likely than not, told she isn't fit for the job.
"I'm working smarter, not harder—women don't get that kind of leeway," says Blanas. "Guys turn into slack-jawed morons with a frat boy attitude. It takes people championing the cause for women apprentices to overcome something like that."
MAKING WOMEN A PRIORITY
The U.S. Department of Labor Women's Bureau is expanding female participation in apprenticeships, a strategy that highlights high-demand industries like software development where women's involvement has steadily declined.
A recent DOL case study illuminated strategies that organizations, including community colleges, can employ to promote success for women in apprenticeships. Introducing applicants to job seeker support specialists, for example, can address barriers such as childcare and transportation.
As women are more likely to have caregiving responsibilities than men, it's incumbent upon skilled trade employers to offer supportive services like childcare, notes U.S. Labor Secretary Marty Walsh.
Since 2017, the women's bureau at DOL has awarded nearly $4.4 million to 11 community-based groups throughout the country, with the goal of helping women pursue apprenticeships as well as employers recruit, train and retain this often-underserved population. Walsh says simply giving women a chance in male-centric fields can be a guiding light for future apprenticeships.
"There's no reason a woman can't excel in any apprenticeship field, so every woman who succeeds is proving to her coworkers and employers that she can do the job," says Walsh. "She's also a model for the next generation, showing young girls that there are rewarding jobs in a variety of fields, not just the ones historically dominated by women."
Columbus State Community College partners with numerous registered apprenticeship sponsor organizations across Ohio, providing viable pathways for students interested in obtaining a degree from the institution. A facility maintenance apprenticeship—which prepares individuals for careers supporting the upkeep of residential, commercial and multi-family properties—is available on campus.
Columbus State's facility maintenance program hosts around 50 people annually. Women comprise less than 3% of that figure. For skilled trades coordinator Scott Laslo, reversing biases means building a support network for women eager to join the skilled trade ranks.
Inviting representatives from the National Association of Women in Construction, for example, clarified the work Columbus State is doing in welding, plumbing and carpentry. The college also partnered with an all-women engineering group at Ohio State University to further emphasize for its female students that these jobs exist.
Outcomes of these efforts are slow, if steady: While not directly related to apprenticeships, a stick welding course at Columbus State drew two women, with another female student joining an evening class. Laslo views this an improvement over years when Columbus State's entire suite of skilled trade offerings would have one or two women annually.
"We're very much trying to make women a priority for our program, because there is a value-add to that," says Laslo. "It's showing the workforce that it's okay to be different, and multiple people can do these types of jobs. Ultimately, women are doing the same exact work as a man. If they enjoy it and are good at it, they should excel no different than anyone else. The work is the work."
Lasack of Kirkwood believes colleges and employers alike must do better at meeting would-be apprentices where they live. This can translate to helping women secure affordable childcare, or finding role models to navigate participants along the apprenticeship journey.
"As community colleges, we have to look at our programming and make sure our students don't have to choose whether to go to school or not be there for their kids," Lasack says. "If employers want a long-term solution, we have great people working to the best of their abilities with a great work ethic."
Diesel tech apprentice Wieser aspires to climb the career ladder at her company and has no plans to let a few malcontents ruin the opportunity.
"Doing this work makes me feel great, because this is what I went to school for," says Wieser. "You learn more out in the field, but it's great to apply something from school to a real-life situation. Don't let anyone tell you can't do something. I've been told I'd never be able to use this degree, but I'm proving everyone wrong."