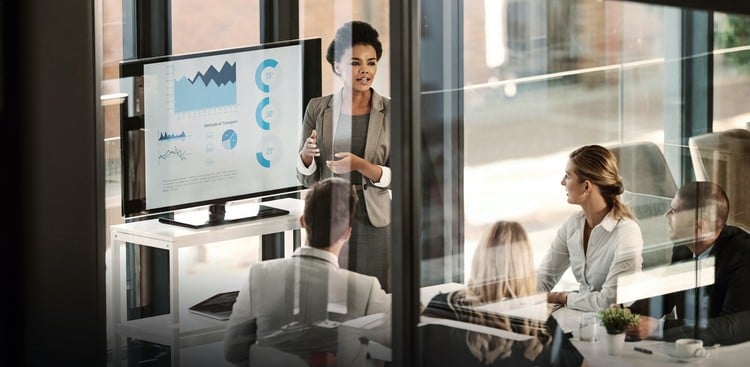 11 Great Careers for Anyone Interested in Finance was originally published on The Muse, a great place to research companies and careers. Click here to search for great jobs and companies near you.
You might think you have a good idea of what the finance industry looks like even if you've never worked in it. Maybe you picture people in suits on the floor of the New York Stock Exchange shouting numbers or the people directing them from a fancy office on the top floors of a skyscraper to "buy!" or "sell!" And yes, that is one area of finance (though the floors of many stock exchanges have closed or slowed down considerably with the rise of electronic trading). But there are many careers in finance, both inside and outside of the investing world, and it makes sense to explore the best one for you before you decide which one to pursue.
Many people entering the finance industry "want the big competitive investment jobs," says Muse career coach Tara Goodfellow, a former finance professional and founder of Athena Consultants, where she coaches job seekers hoping to enter the finance industry. But you should think about what's best for you, your personality, and your values before just choosing the type of finance job you think is flashiest or even most profitable.
If you have a finance or related degree, think about what classes you enjoyed and which you didn't, Goodfellow says. What did you find most exciting? What can you rule out? You can also think back on any past internship to figure out what you did and didn't like. Do you thrive under pressure? Are you willing to work long hours? Maybe investment banking or something in trading is right for you. Do you love making connections with new people? Consider taking a role in financial planning or advising or working as a broker or in consumer banking. Are you a math whiz who'd prefer to work behind the scenes and in a lower-stress environment? Look into becoming an actuary or quantitative analyst. Do you like finance but not the finance industry? Consider pursuing a role in accounting, compliance, or budget analysis and management in another industry you're interested in, like healthcare, tech, or even the government.
Regardless of which finance career interests you, the field of applicants will likely be competitive so choosing the one that plays most to your strengths and interests will help you "have a story to tell about why you're a good fit" and stand out from the crowd, Goodfellow says.
Check out this list of 11 finance careers (with data from O*NET, a national online database of occupations and related information, and the U.S. Bureau of Labor Statistics) to see which one might be right for you.
We've included salary info, too—the good news is that many finance careers have earning potential (and often starting salaries) well above the median household income in the U.S., which was $68,703 in 2019. (Note that in addition to base salary many finance jobs also come with significant commission, profit sharing, and bonuses, and that the salaries listed here may only reflect pay for the first position you're likely to hold.)
As you look for jobs, keep in mind that within finance, many organizations have different titles for the same role. So check out the O*NET page for each to see possible job titles and thoroughly read descriptions for both individual job postings and all of a company's openings to find the best one for you.
1. Accountant or Auditor
Median salary for accountants in the U.S.: $51,410
Median salary for auditors in the U.S.: $57,111
Accountants and auditors examine, analyze, interpret, organize, and maintain financial records to prepare financial statements or tax statements; find ways to reduce cost or increase profits; advise on business decisions; and ensure that companies and individuals are in compliance with tax codes and other financial regulations. Auditors focus on ensuring the correct and legal management of funds.
For entry-level accountants, there might be a big focus on getting a job with one of the Big Four accounting firms (Deloitte, PricewaterhouseCoopers, Ernst & Young, and KPMG), but "you don't always have to go to the large banks and financial institutions," Goodfellow says. "Every industry needs accountants." Accountants and auditors can work for financial companies, government, universities, and organizations across all fields and in a variety of roles.
Accountants and auditors need to have a keen eye for detail and strong problem solving and analytical skills. You'll need to have knowledge of general accounting principles, practices, and laws, which is usually obtained through a four-year accounting or related degree. Though you don't absolutely need one to get started, your job prospects will increase tremendously if you have or are working toward an accounting certification. Certified Public Accountant (CPA) is the most popular, but there are a range of others depending on your specialty.
Find accountant jobs on The Muse
2. Credit Analyst
Median salary in the U.S.: $51,500
As the name implies, credit analysts analyze the credit and financial data and history of individuals and companies to determine the degree of risk involved in lending them money or extending them credit. They complete loan applications or analyze financial data such as income growth to determine the potential profitability of a loan and likelihood it will be paid back. Credit analysts primarily work for banks and credit card companies but can also work for mortgage, insurance, and investment firms.
You'll need strong decision-making, critical thinking, analytical, research, and communication skills along with a bachelor's degree in finance, accounting, or a related field. Some positions might also require a Chartered Financial Analyst (CFA) credential.
3. Brokers and Traders
Median salary for brokers in the U.S.: $58,031
Median salary for traders in the U.S.: $73,674
Brokers and traders buy and sell securities like stocks, bonds, and other funds and do research ahead of these trades. However, while traders often buy or sell based on the wishes of a manager of a portfolio or other investment fund, brokers are responsible directly to the investors and might work for themselves or a brokerage or securities firm. They are also responsible for growing their own client list so, much like financial planners, they must also have an entrepreneurial mindset to bring in new business and have strong interpersonal skills to begin and maintain long-term relationships. Both positions require a four-year degree and certain Financial Industry Regulatory Authority (FINRA) licenses to complete trades on behalf of others.
4. Financial Analyst
Median salary in the U.S.: $61,143
Financial analyst is a first finance job title for many people entering the industry. Depending on where you work, you might provide guidance to businesses and individuals making investment decisions; assess the performance of stocks, bonds, and other investments; evaluate current and historical financial data for the company you work for or others; and research possible investments. Regardless of the company, most financial analysts are responsible for reporting their findings to others. You're most likely to be working for large financial institutions including investment firms and banks in New York City and other financial hubs, but you can also work as a corporate financial analyst in other industries.
To be a financial analyst you must have strong math, analytical, and communication skills, be detail oriented, and be willing to work long hours (a lot of research must be done outside of 9-to-5 hours) and endure high stress (O*NET rates the importance of financial analysts' ability to tolerate stress at 88 out a possible 100, the highest on this list). To get started, you should have a bachelor's degree in finance or a related field. Pursuing a related internship will also help you land an entry-level position. In order to progress as a financial analyst to a portfolio or fund management position, you may need a CFA certification or other FINRA license and an MBA.
Many financial institutions have two-year financial analyst programs for new graduates. Some of these programs, like the one at Wells Fargo, are rotational, allowing you to learn about different areas in the financial industry to help you decide where you want to go with the rest of your career. (Full disclosure: Wells Fargo is a current client of The Muse.)
5. Budget Analyst
Median salary in the U.S.: $61,381
Budget analysts help develop, review, and monitor spending toward budgets for organizations, departments, programs, and projects. Budget analysts work across industries in private companies and for government offices and must have strong analytical and communications skills to explain decisions to others in an organization. Budget analysts generally need a bachelor's degree in accounting or a similar field, but some companies will accept experience instead while others are looking for candidates with an MBA. In order to work in some government budget analyst positions, you may need a Certified Government Financial Manager credential from the Associate of Government Accountants.
6. Personal Financial Planners and Advisors
Median salary for personal financial advisors in the U.S.: $63,528
Median salary for certified financial planners in the U.S.: $67,252
Personal financial planners and advisors help individuals with their financial goals, including providing education on investments, selecting investments on their behalf, managing their portfolios, planning for long-term goals, and monitoring their finances. While personal financial planners and advisors may work for banks (in private or retail banking) and investment funds and firms, they can also work for themselves.
Financial advisors may advise clients once or for a short time, whereas financial planners often have long continuing relationships with clients (which means they need strong interpersonal skills) and must be Certified Financial Planners to use the job title. In addition to analytical skills and investment knowledge, financial planners must also have an entrepreneurial mindset, Goodfellow says, since even if you're working for another organization, you're often building up a list of clients yourself.
Find financial advisor jobs on The Muse
7. Risk Specialist
Median salary in the U.S.: $64,787
Risk specialists work for investment banks and firms, mortgage and insurance companies, and corporate lenders, among others. Risk specialists use quantitative and qualitative approaches to analyze the risk to:
Existing and prospective investments (in both domestic and foreign markets)
Earning capacities
The success of companies
Risk specialists need to have a strong ability to recognize potential problems and good inductive, deductive, and mathematical reasoning skills. You often need a bachelor's degree in finance, math, or economics to get started as a risk specialist and might need an MBA. A degree or focus in international business is also helpful for risk specialists.
8. Financial Examiners
Median salary in the U.S.: $65,171
Financial examiners ensure compliance with finance laws and regulations by reviewing balance sheets, financial records, and loan documentation. They generally work for financial institutions and insurance companies or for the government. Government financial examiners often investigate fraud or money laundering at financial institutions and other companies, while those working for private companies ensure the stability and compliance of their own organizations.
Financial examiners need strong attention to detail and analytical skills and a four-year degree in accounting or another field (though a certain number of accounting classes is required for anyone hoping to work for the FDIC), and may consider getting a CPA credential to make them a more competitive candidate.
9. Quantitative Analyst
Median salary in the U.S.: $84,266
Quantitative analysts, or quants, develop financial products—including complex models—that investment and other financial firms use to price, trade, and calculate risk for different securities (any tradable financial asset). Quants primarily work for investment banks and hedge funds, but might also be employed by depository banks, trading firms, or fintech companies.
To become a quant, you need to have high-level mathematical and other reasoning abilities. A lot of your work will be abstract rather than focused on a specific company or industry, and much more time will be spent on a computer screen than interacting with colleagues. The salary for this position is high, but so is the barrier to entry: You'll need a master's degree or preferably a PhD in a quantitative field like math, finance, statistics, or economics and be able to demonstrate a strong computer skill set, or a master's degree or PhD in financial engineering or computational finance.
10. Actuary
Median salary in the U.S.: $91,729
Actuaries use math and statistics to evaluate probabilities and risks that events, like car accidents or property damage, will occur. They calculate the cost of those events and help design insurance policies and other models. Actuaries primarily work for insurance companies but can also be employed by investment firms, governments, or banks. Actuaries have a very high salary and the market for these jobs has a very high predicted growth rate, Goodfellow says. The BLS estimates that the field will grow 18% from 2019 to 2029. The job is also relatively low stress, especially compared to other jobs of this salary level and in the finance industry.
You will need very strong math and reasoning skills and a four-year degree in actuarial sciences, finance, accounting, or a related field. You'll also need to be certified by either the Casualty Actuarial Society (CAS) or the Society of Actuaries (SOA), which both require you pass seven exams for the lower level of certification. Most companies expect you to have passed one or two of these exams before you complete your degree. There is also a long on-the-job training period for actuaries.
11. Investment Banker
Estimated Average Salary in the U.S.: $100,428
Investment banks deal primarily with the raising of money for companies and governments, through bonds, stocks, public offerings, mergers and acquisitions, venture capitalism, and other methods. Although the salary rewards are high (with the potential to earn over $400,000 after bonuses and profit sharing as an experienced investment banker), these are very competitive, high-stress positions. To become an investment banking analyst (the most common entry-level position), you often need not only a finance, economics, or other quantitative or business-focused degree, but an MBA or master's in finance and an internship, and some companies only recruit from top schools.